Moulded Polystyrene Cold Boxes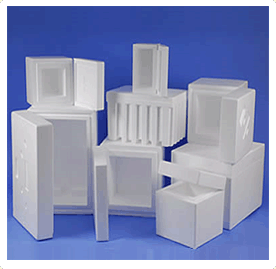 Moulded Polystyrene (EPS) Cold Boxes provide a lightweight, water resistant, hygienic, low cost solution for the transportation of temperature sensitive products.

They are manufactured without the use of either CFC or HCFC blowing agents, have a zero ODP and are fully recyclable.

We offer a wide selection of moulded cold boxes which are available for nationwide delivery, below shows an extensive list of the moulded containers we offer with their respective details and also a link to view the thermal performance of the individual box.

If you have any question or would like more information regarding the Moulded Polystyrene Cold Boxes then please don't hesitate to Contact Us.
 
Box
Reference
Internal
Dimensions


(approx)

External
Dimensions


(approx)

Wall
Thickness


(approx)

Internal
Volume


(approx)

External
Volume


(approx)

Empty
Weight


(approx)

Lid
Type
Thermal Performance
(link)
XPL 1
140 x 140 x 140 mm
190 x 190 x 195 mm
25 mm
2.75 litres
7 litres
90 g
moulded / interlocking
Link
XPL 2
150 x 150 x 150 mm
245 x 245 x 245 mm
45 mm
3 litres
14 litres
200 g
moulded / interlocking
Link
XPL 3
240 x 115 x 210 mm
300 x 175 x 295 mm
30 mm
6 litres
15 litres
200 g
moulded / interlocking
Link
XPL 4
175 x 175 x 185 mm
300 x 300 x 305 mm
60 mm
6 litres
27 litres
430 g
moulded / interlocking
Link
XPL 5
210 x 210 x 180 mm
280 x 280 x 255 mm
35 mm
8 litres
20 litres
250 g
moulded / interlocking
Link
XPL 6
205 x 205 x 220 mm
300 x 300 x 300 mm
45 mm
9 litres
27 litres
360 g
moulded / interlocking
Link
XPL 7
215 x 215 x 210 mm
345 x 345 x 345 mm
65 mm
10 litres
41 litres
630 g
moulded / interlocking
Link
XPL 8
240 x 210 x 195 mm
350 x 300 x 290 mm
45 mm
10 litres
30 litres
400 g
moulded / interlocking
Link
XPL 8A
358 x 258 x 120 mm
400 x 300 x 162 mm
21 mm
11 litres
19 litres
154 g
moulded / interlocking
Link
XPL 9
315 x 210 x 170 mm
380 x 285 x 275 mm
30 mm
11 litres
30 litres
375 g
moulded / interlocking
Link
XPL 9A
358 x 258 x 146 mm
400 x 300 x 188 mm
20 mm
13 litres
23 litres
151 g
moulded / interlocking
Link
XPL 9AA
325 x 270 x 190mm mm
450 x 390 x 320mm
60mm
16.6 litres
56 litres
151 g
moulded / interlocking
Link
XPL 10
250 x 250 x 305 mm
385 x 385 x 435 mm
65 mm
19 litres
64 litres
900 g
moulded / interlocking
Link
XPL 10A
305 x 260 x 235mm
375 x 330 x 275mm
35mm
18.6 litres
34 litres
369g
moulded / interlocking
Link
XPL 11
358 x 258 x 252 mm
400 x 300 x 290 mm
20 mm
21 litres
34 litres
229 g
moulded / interlocking
Link
XPL12
315 x 315 x 240 mm
455 x 455 x 380 mm
70 mm
24 litres
79 litres
975 g
moulded / interlocking
Link
XPL 13
420 x 280 x 210 mm
525 x 390 x 315 mm
50mm (ribbed)
25 litres
64 litres
670 g
hot-wire cut interlocking
Link
XPL 13A
460 x 318 x 175 mm
500 x 358 x 200 mm
20mm
26 litres
36 litres
269 g
moulded / interlocking
Link
XPL 14
460 x 350 x 220 mm
550 x 440 x 315 mm
45 mm (ribbed)
35 litres
76 litres
700 g
hot-wire cut interlocking
Link
XPL 14A
548 x 348 x 100 mm
600 x 400 x 152 mm
26 mm
19 litres
36 litres
318 g
moulded / interlocking
Link
XPL 15
440 x 385 x 275 mm
555 x 505 x 420 mm
55 mm
47 litres
118 litres
1250 g
moulded / interlocking
Link
XPL 15A
538 x 338 x 199 mm
600 x 400 x 254 mm
20 mm
36 litres
61 litres
636 g
moulded / interlocking
Link
XPL16
530 x 365 x 300 mm
565 x 400 x 360 mm
18 mm
58 litres
81 litres
460 g
moulded / interlocking
Link
XPL 17
545 x 360 x 305 mm
675 x 490 x 425 mm
65 mm
60 litres
140 litres
1560 g
moulded / interlocking
Link