Thermal Insulation Boxes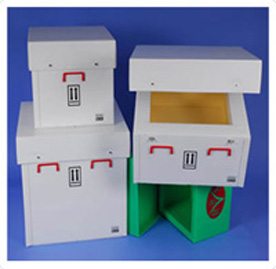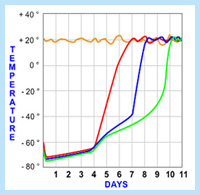 The FerriBox™ insulated container benefits from a unique lightweight construction combining the durability of a corrugated polypropylene outer skin with the thermal performance of an integral insulating core. We offer a choice of materials for the insulating core (determined by the thermal performance you require); the colour of the corrugated polypropylene outer skin can be selected from a wide range and your corporate identity can be overprinted if desired. The FerriBox™ is available for next day delivery nationwide in four standard sizes (as detailed in the table below) or can be custom made to order to meet your specific size / performance requirements.

When used in conjunction with UN specification internal packaging, the FerriBox™ complies with the Dangerous Goods Regulations allowing the safe transport by air and road of diagnostic / biomedical specimens and infectious substances. The graph below shows some typical examples of the thermal performance achieved by the FerriBox™ at an ambient temperature of +20°C when a frozen specimen of a particular volume is packed in the specified weight of dry ice.
 
Box
Reference
Internal
Dimensions


(approx)

External
Dimensions


(approx)

Wall
Thickness
Internal
Volume


(approx)

External
Volume


(approx)

Empty
Weight


(approx)

Lid
Type
Carry
Handles
FerriBox™ 1
350 x 330 x 280 mm
430 x 400 x 350 mm
30 mm
32 litres
60 litres
1.50 kg
loose
2
FerriBox™ 5
300 x 300 x 255 mm
450 x 450 x 425 mm
75 mm
23 litres
86 litres
3.75 kg
4 metal fasteners
4
FerriBox™ 12
450 x 450 x 220 mm
610 x 610 x 380 mm
75 mm
45 litres
140 litres
5.40 kg
4 metal fasteners
4
FerriBox™25
450 x 450 x 420 mm
610 x 610 x 590 mm
75 mm
86 litres
220 litres
6.75 kg
4 metal fasteners
4